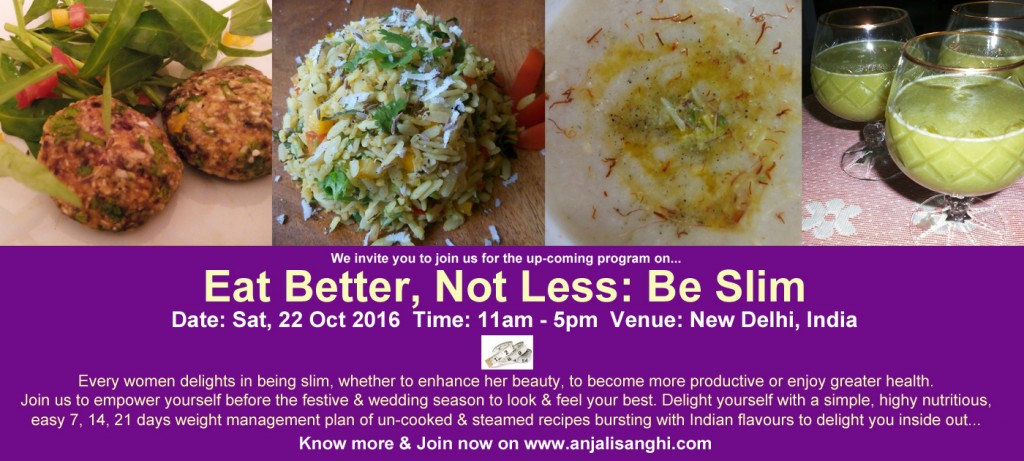 EAT BETTER NOT LESS: BE SLIM 
On: Saturday. 22 Oct 2015
At: 11 Am to 5 pm.
Venue: Inderpuri, New Delhi-110012, INDIA
Presenter: Anjali Sanghi.
PRE- REGISTRATION IS COMPULSORY. ON THE SPOT REGISTRATION IS NOT AVAILABLE
EARLY BIRD: Till Thursday, 22nd Oct 2016: Rs. 4,000- per participant

Contribution on Friday, 21st Oct 2016: Rs. 4,500- per person
THIS PROGRAM: practiced by us personally has helped several women by eating delicious food in abundance and yet looking slim and feeling great.
You too can empower yourself with this opportunity to bring the much awaited looks, productivity and great health to yourself before the wedding season arrives…
This empowering program by followed by all women including mothers, housewives, entrepreneurs, working women, teenagers, whether you stay at home or are on the go…
There are different plans as per the needs & tastes of different women…

Here are my personal pictures of transitioning successfully…
CALL: 9159870486 (4pm to 6pm) or CLICK HERE TO CONTACT US TO KNOW MORE
Bank Details (if required):
ANJALI SANGHI,
Savings Account No. 10211434560,
State Bank of India, Inderpuri Branch, New Delhi-110012, INDIA
RTGS/NEFT IFSC: SBIN0002358
NOTE: After paying the contribution please contact us with Your Name, City, Phone Number, Payment details to receive the complete address and registration form.
(The contribution includes notes, raw vegan nutrition charts, creation and tasting of delicious UN-COOKED raw vegan dishes during the program.)
***
Cancellation Policy: Cancellation before the early bird attracts 90% refund towards another program being conducted within next 6 months. Cancellation after early bird attracts 75% refund towards another program being conducted within next 6 months.
Disclaimer: This program is not a substitute for medical advise directly or indirectly. If you think your condition needs medical help or supervision then kindly contact an experienced medical practitioner.All the content of this program is completely natural with no side effects what so ever. other than few occasional harmless detox symptoms observed by some people. Please remember that you are solely responsible for all your choices and actions…Anjali Sanghi reserves complete right to accept or reject the participation of the participant based on behavior and other criteria.  In-case your application is not accepted this time, all your contribution will be returned within next 15 working days of the program dates.