JEERA ALOO (Cumin spiced potatoes)
Course: Main-course
Cuisine: Indian- Plant Based
Author: Anjali Sanghi
The simplest and most loved, simple potato recipe of India. Here you can distinctively taste and feel the aroma of all individual spices, yet their combination with the soft potato brings in a harmony of un-forgettable taste. Many variations are possible with use of tomatoes in different textures, and change of spices. Equally liked by kids and adults.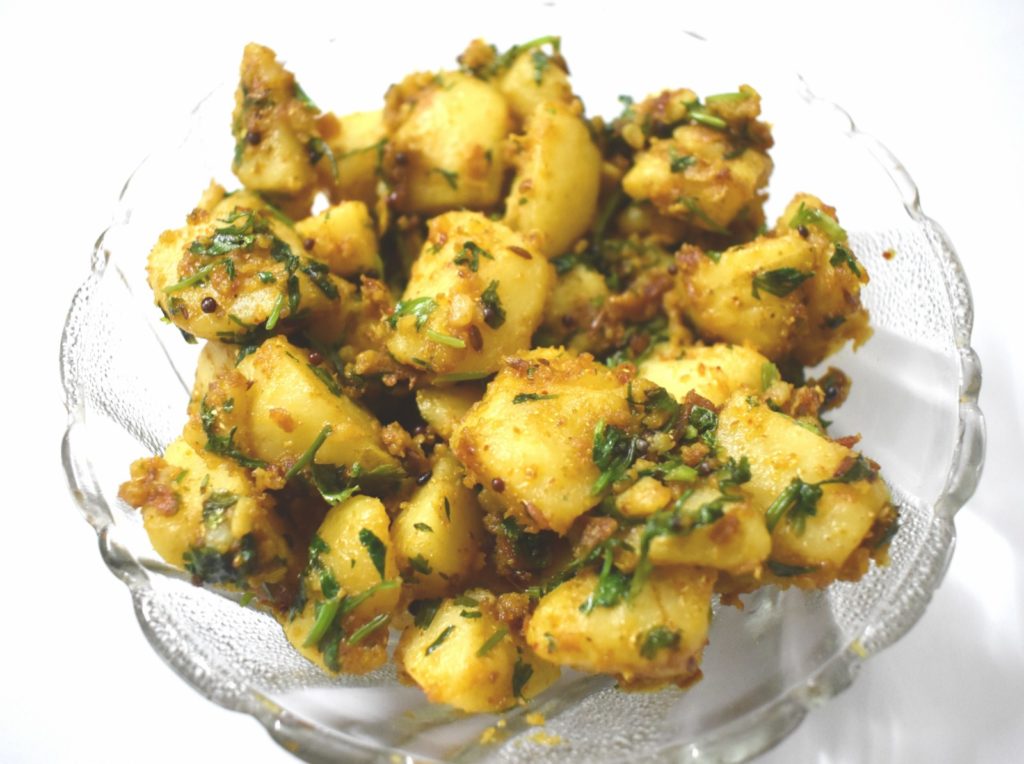 Prep Time: 10 minutes (manual)
Steam Time: 12 minutes (may vary little for different steamers)
Spices: 3 minutes
Total Time: 25 minutes
INGREDIENTS
VEGETABLES
250 grams potatoes (3-4 medium sizes)
 SPICES
Salt to taste
1 T-spoon cumin seeds or ½ T-spoon cumin powder
½ T-spoon turmeric (haldi) powder
½ T-spoon dry coriander seed (dhania) powder
Red chili powder to taste- around ¼ to ½ t-spoon (optional)
 GARNISH
Fine chopped fresh coriander leaves
Fine chopped fresh spring onion leaves (optional)
METHOD
PRE- PREPARATION:
Potatoes: Wash your potatoes well. Remove the peels. Now chop them fine and keep aside. (You can take help of a chopping board for this.) Remember the finer you chop your potatoes, the quicker they get softened in the steamer.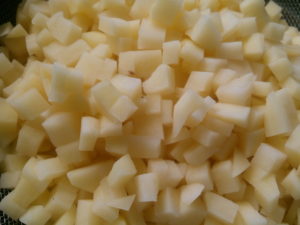 STEAMING:
Put water in the bottom part of your steamer. Put the top attachment and add fine chopped potatoes to it.
Cover it with the lid and put it for steaming. If using gas, put the knob on full for first 3-4 minutes then make it slow.
After 6-7 minutes remove the cover and stir the potatoes with a spoon. (Take care that too much steam does not come upon you as it is hot).
After around 10 minutes, open the lid and stir it once more. Check if the potatoes are cooked or you can continue steaming for some more time.
Take out the vegetables in a bowl and keep aside.
 MIXING SPICES
Mixing Raw Spices: Mix all spices and salt together in a bowl. Start mixing the spices slowly to the steamed potatoes. Turn the potatoes slowly with a bigger spoon and ensure they do not get mashed up while mixing of spices. If their steaming has been done well then they will retain their shape. Mix in all the spices gently. Transfer the dish to a serving bowl if required.
Garnish with coriander leaves and serve beautifully.
Optionally you can dry roast your spices and add them along with salt to the steamed potatoes.
If you want to use a medium of tempering (like oil) then maximum upto one t-spoon is enough, since your potatoes are pre-cooked.
MAKING WITH TOMATO ONION
Option 1: Steam 2 medium size, fine chopped tomatoes and keep them in a bigger bowl. Mix all required spices and salt in it. Now add the steamed potatoes to it and mix them slowly, but well with this mixture.
Option 2: You can also add two fine chopped medium size tomatoes mixed with potatoes at the beginning of the steaming process.
For adding onion: You can add fine chopped leaves of spring onion from the top of the dish and mix them well. They bring in a delicious onion flavour even without cooking it.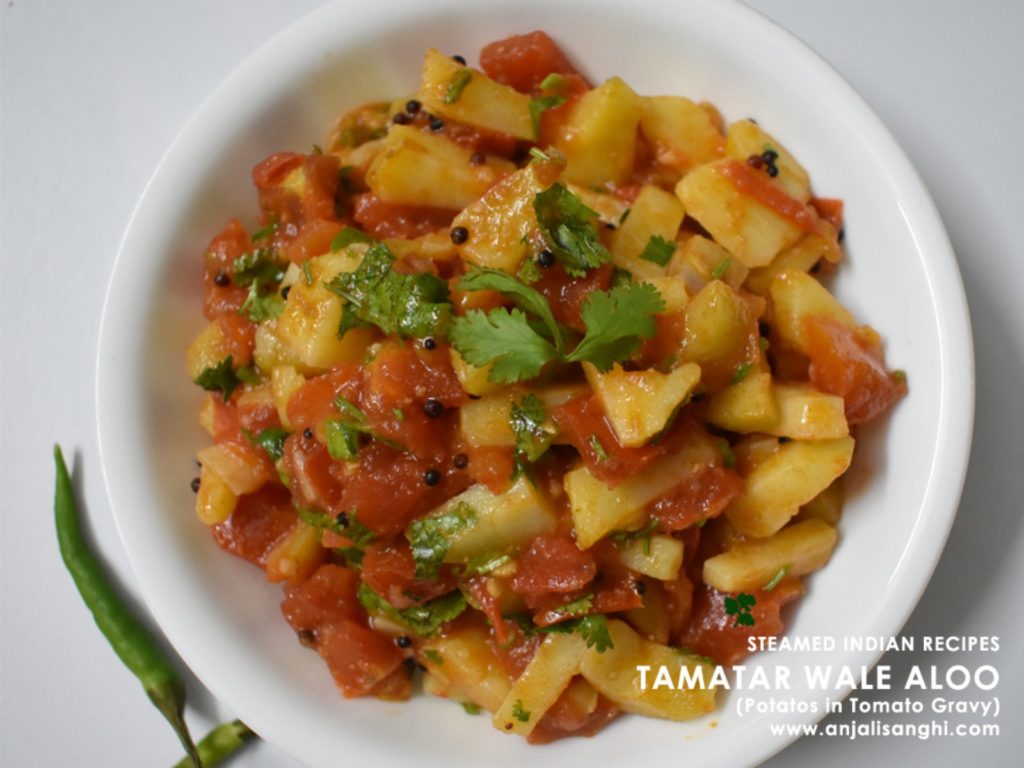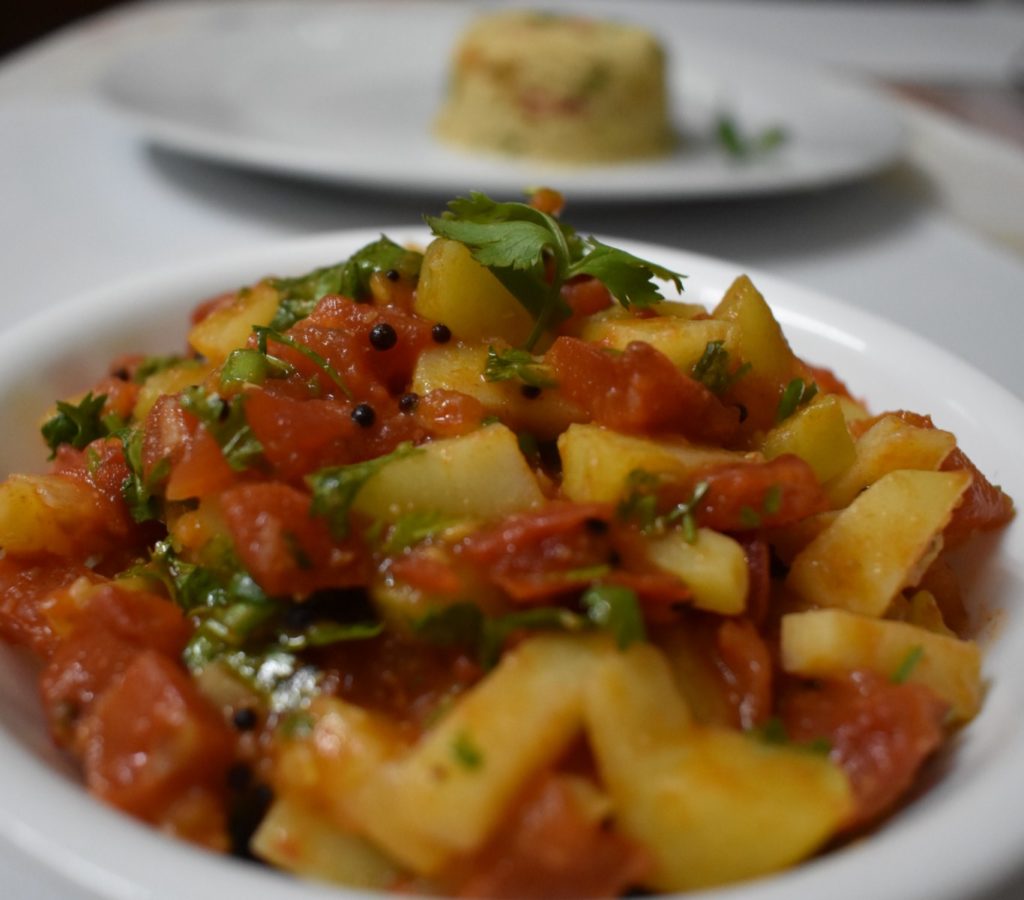 SERVING IDEAS
Generally served with Chapati or Poori in Northern India. this is the most versatile dish, so you can serve it with mostly all side dishes and even snacks millet rice, dosa, backed kachori etc.
***
GET 'INDIAN STEAMED RECIPES' PRINTED OR DIGITAL BOOK NOW & CREATE THESE DELICIOUS, NOURISHING, STEAMED RECIPES AT HOME