MANGO SALSA DELIGHT

This is one of the most loved mango salad. Whenever we have made this, everyone- young and old have enjoyed it with delight. This recipe is oil free, salt free, low fat, gluten free, fully raw- uncooked, plant based, highly nourishing – so that all can cherish it.
Recipe Type: Salad
Cuisine: Indo-western flavours
Author: Anjali Sanghi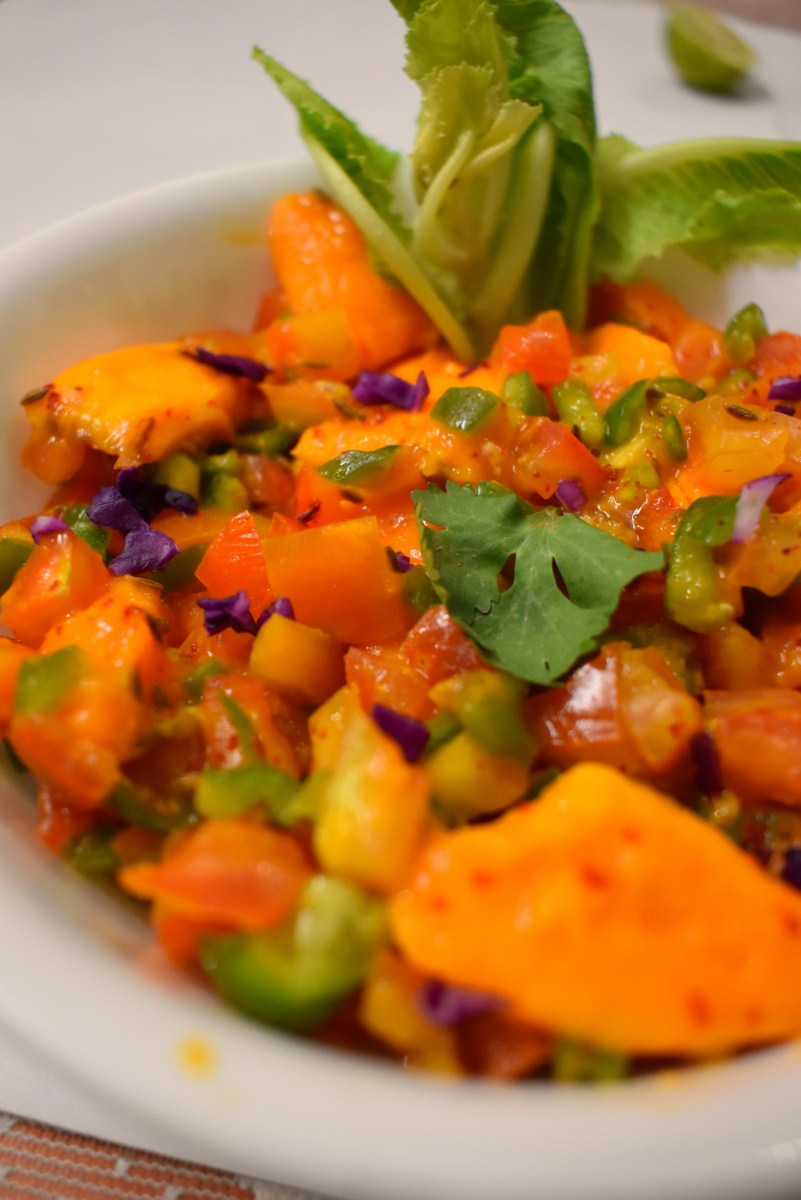 Everyone loves mangoes, and this recipe has bursts of colours and flovours in it which everyone adores. You don't know what tastes await you in the next bite. Since the mango season is here, enjoy making this recipe and share it with all.
You may also like these recipes:
Rainbow Salad with Mango or Papaya Salsa Dressing
ARE YOU NEW TO RAW FOOD RECIPES: Read RAW FAQ's, Basics, Benefits & more… Here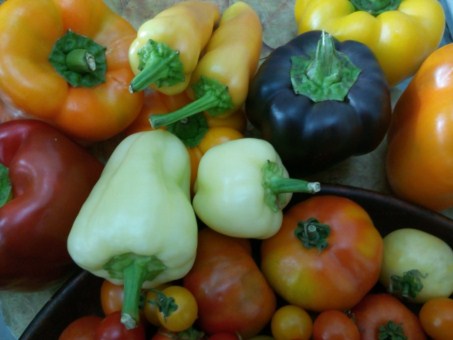 Prep Time: 15-20 minutes (manual)
Mixing and Serving: 5 minutes
Total Time: 20 minutes
Serves: 2
INGREDIENTS
2 large or 3 medium size ripe mangoes-diced
1 finely diced medium coloured ripe bell pepper
3 medium sized finely diced tomatoes
30 grams of fine chopped coriander
Juice of around half of lemon to taste (optional)
Leaves of 1 spring onion: finely diced
Raw red chili powder to taste
1 t-spoon of cumin seeds
HOW TO CREATE
Add all ingredients of choice to a big bowl and mix well. Add the mixture to a serving bowl. Now garnish with few leaves of coriander and cumin seeds. Serve well.
 RECIPE VARIATIONS
To the salad you can add finely chopped lettuce leaves or salad leaves of choice.
You can roll up the mixture in the leaves if iceberg lettuce and enjoy this sweet, sour and tangy delight.
RECIPE NOTES

Remember to wash all ingredients properly before starting to chop them
Chopping in different sizes- big or small can bring beautiful variations in flavours. Thus you can try many versions of this salad and see which one you or your loved ones will enjoy most.
***
PRE-ORDER 'INDIAN RAW RECIPES' PRINTED OR DIGITAL BOOK NOW & CREATE THESE DELICIOUS, NOURISHING, RAW RECIPES AT HOME