ONLINE PROGRAMS FOR INDIVIDUAL WOMEN AND FAMILIES
Following workshops are now available online (for women and families). These are specialized programs for people with Indian background, tastes and liking:
FOOD COMBINING & SEQUENCING: A very popular and empowering online workshop about – How to combine Indian fruits, vegetables and other foods in proper way for proper digestion. Also learn how to make well combined recipes from seasonal fruits and vegetables available in your kitchen.
You can also learn what most people don't know- but greatly benefit if they have learnt about it- how to sequence your food, i.e. which foods to have first from your plate and which to have last. This is a very helpful information which even kids must know.
Since many years this program has helped people overcome many myths, learn about ways of introducing healthier foods, learn basics of raw and other food for best digestion, learn about delicious recipes and much more…
Also Receive: Ebook Notes on 'Food Combining and Sequencing' + Recipes written by Anjali Sanghi + Audio Recordings of the sessions
Duration: 2 days x 1.5 hours each
JOINING ONLY ON REQUEST- CLICK HERE TO SEND REQUEST
DETOX YOUR BODY (with raw &/or steamed food): This a very successful and popular program which has helped many women and families to detox their body in an easy way. It focuses on empowering 'you' with right knowledge so that you can detox as per your present needs and tastes.  The recipes are delicious, process is easy and has been  successful over many years with people of Indian background + lovers of Indian cuisine.
Also Receive: Notes + Specially written book of the same title 'DETOX YOUR BODY'- by Anjali Sanghi, Size A4, Pages 100, fully coloured with meal plan options and 100 recipes + Audio recordings of the sessions
Duration: 4 days x 1.5 hours each
JOINING ONLY ON REQUEST- CLICK HERE TO SEND REQUEST
BENEFITS OF DOING THESE ONLINE PROGRAMS
Learn at comfort of your home.
No extra time and money spent on travel or stay.
Learn from experiences of Anjali Sanghi who has successfully delivered classes on these subjects to thousands of people.
ELIGIBILITY: Good Fluency or understanding of English or Hindi language. Interest in learning about food and related topics. All girls/ women ages 12+ can learn. Other family members can also learn with them (for no extra fee).
TO KNOW MORE WRITE TO US ON anjalisanghiofficial@gmail.com
To make a request to talk on phone please mention all details about yourself- Name, Age, City/Country and Topic in detail.
DETAILS ABOUT INDIVIDUAL SESSIONS (Duration 1.5 hours per session. Timings available: Monday to Friday: 9am-10.30am or 11am -12.30pm): Individual sessions are only open for women and families. Ages 12+ can join. (Request from individual men will not be accepted. If men want to join then they can join online only with their sisters/wives/mothers/friends etc who should be present in every class). Dates of Individual sessions must be decided within one week (7 days) of your registration & should lay within three weeks of registration. These and other details do so will be sent to you by email within 24 hours of registration. If you do not receive and email even after one full day then please feel free to communicate with us on anjalisanghiofficial@gmail.com.
~ People attending individual sessions must send duly filled registration form (sent by email) before requesting for program dates.
OTHER IMPORTANT INFORMATION 
SAFE PAYMENT METHODS: The above payment methods have been used by us since many years. They have been rated 100% safe by all our buyers. They include safe payment by Credit Cards, Debit Cards, Online Fund Transfer, PAYTM and many others.
IMPORTANT DISCLAIMER: Please consult your doctor before making any dietary changes. Nothing in this event, e/books, videos, website etc are a substitute to medical advise directly or indirectly. The recipes, information and more shared on this website, books, social media, courses etc are completely natural and have no side effects. They are completely based on our personal experiences and research. Results may vary from person to person.  Everyone directly-or-indirectly related to this course/website/books etc. do not take any guarantee and are not responsible for your actions, any adverse reactions, effects, or consequences resulting from the use of any recipes, suggestions, information herein or procedures undertaken thereafter. 'We are happy to share our unique, delicious recipes, detox methods, & much more with you. Please use and cherish them responsibly.' ~ Once paid, there is no refund available for Facebook event or whole/part of individual sessions.
~ Entry to these personalized individual sessions is strictly restricted. Incase any misbehavior is directly or indirectly observed, the participant will be immediately discontinued and no refund or transfer will be given.
DELIVERY OF BOOKS: For those choosing DETOX YOUR BODY- FULL DETOX OPTION: Printed book will only be sent to participants residing in India. Printed book would be delivered within 7-10 working days of enrollment in India. You will be asked for your complete shipping details during the payment process. International participants will not be sent the printed book. They will be sent ebook on first day of starting the individual session.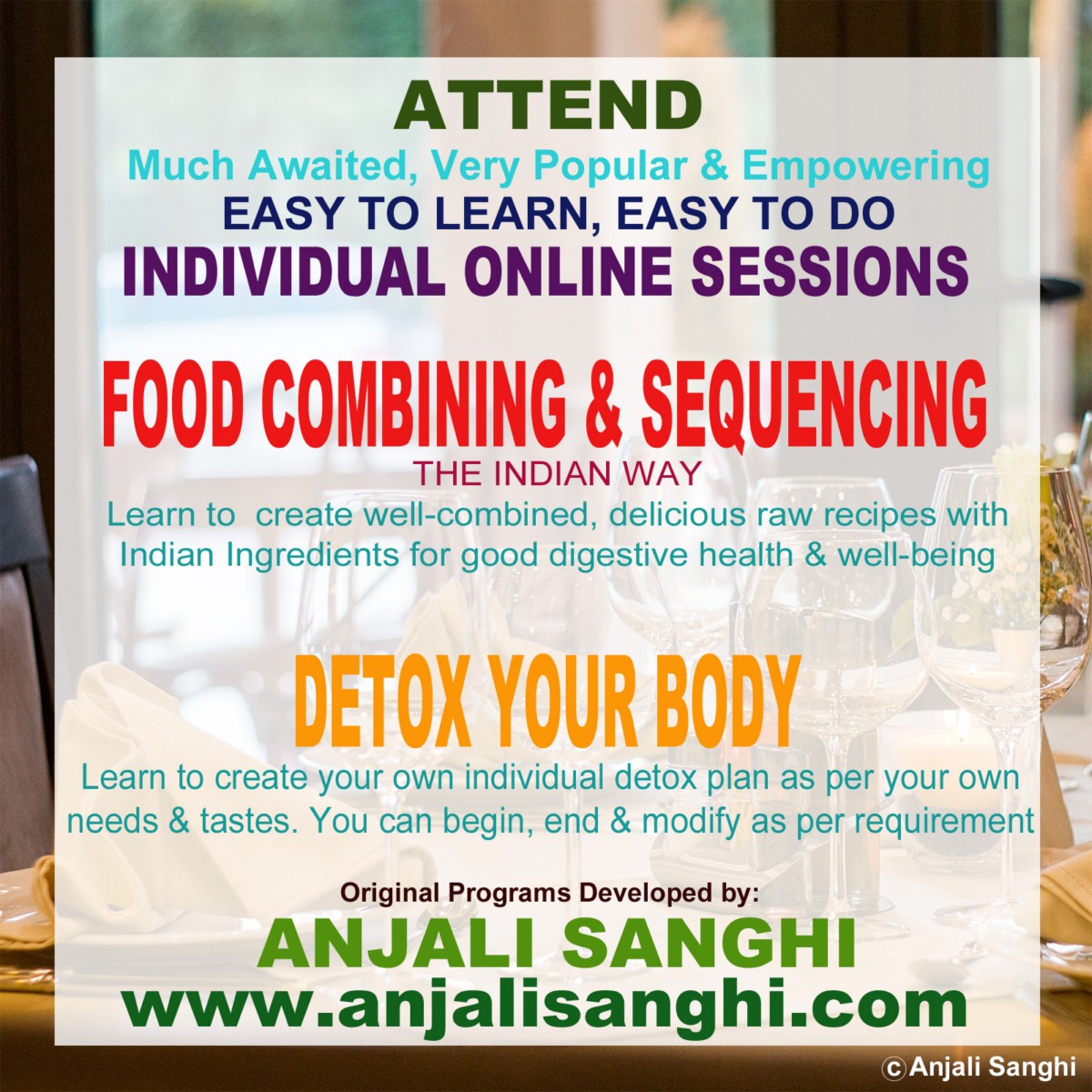 Are you new to raw/ steamed/ healthier food? Or do you just want include delicious raw/ steamed food/ healthier recipes in your present lifestyle?
Do you want to learn delicious, simple, gourmet yet easy to make, healthy recipes for every day enjoyment with family?
Want to learn innovative, quick to make healthy recipes for guests, tiffin, festive occasions etc?
CLICK HERE TO GET OUR E/BOOKS NOW!!
Or Click to know more about: INDIAN STEAMED RECIPES & INDIAN RAW RECIPES

LEARN HOW TO SUCCESSFULLY, EASILY DO PARTIAL OR FULL DETOX (Whenever you want) DATE: 19-23 Nov 2018 VENUE: Online- Facebook IN 'MINI DETOX' RECEIVE: + Online Live Classes (Which get recorded and will available to listen later also) + Facebook support for all five days...