REVISED EDITION OF THE DIGITAL & PRINTED COOKBOOK FOR 'INDIAN STEAMED RECIPES' IS NOW AVAILABLE ON:
"These delicious, nourishing recipes are incredible innovation for lovers of Indian Cuisine…"
"Each recipe is un-expectedly delicious for a steamed or boiled version…"

THE DETAILS
_________________________________________________________________________________________________________________________________________________________________________________________
Steaming is universally known to be one of the best ways of cooking. It has been used since thousands of years everywhere in the world including India. Steaming has been considered the best way to retain most nutrients, colour, texture, taste of the original food. Enjoy these recipes with your family, kids & loved ones and spread joyful well being everywhere
In this book we present to you our INDIAN STEAMED RECIPES which are:
Healthier
Digestion friendly
Simpler to prepare
Plant based
Oil free (optional)
Have delicious flavour with lesser spices
Option to make changes according to your own tastes and liking
Saves time and fuel
Environmentally empowering
Brings joy without compromising on taste
Suitable for all kids, adults and elderly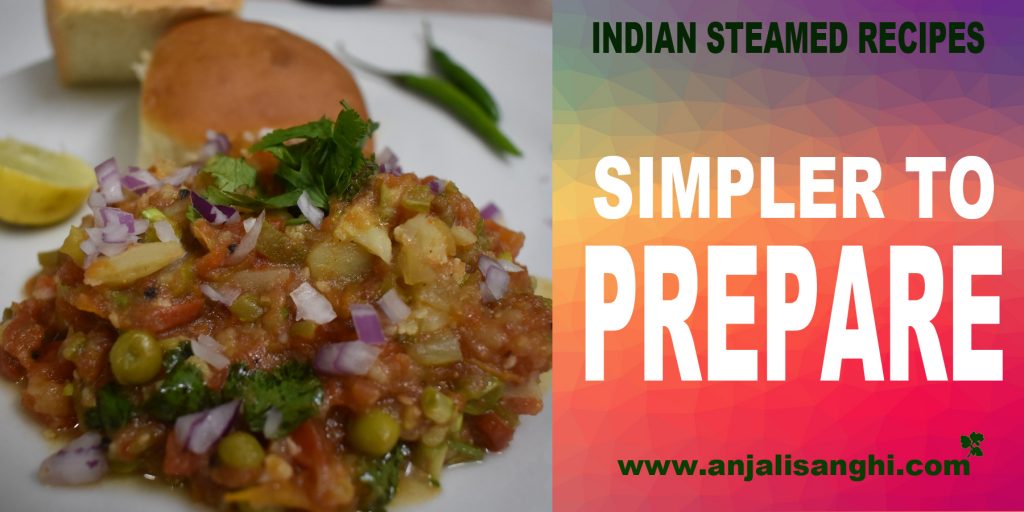 This book also contains:
50 + Steamed, Boiled & Other Recipes
Various topics like: Basics of steaming
Benefits of Indian Spices
How to mix spices in various ways – raw, roasted, tempering
What to have if you do not use oil
Detailed instructions with each recipe
Different kinds of Tomato gravy and other sauces to add tangy & delightful flavours to your recipes
And much more…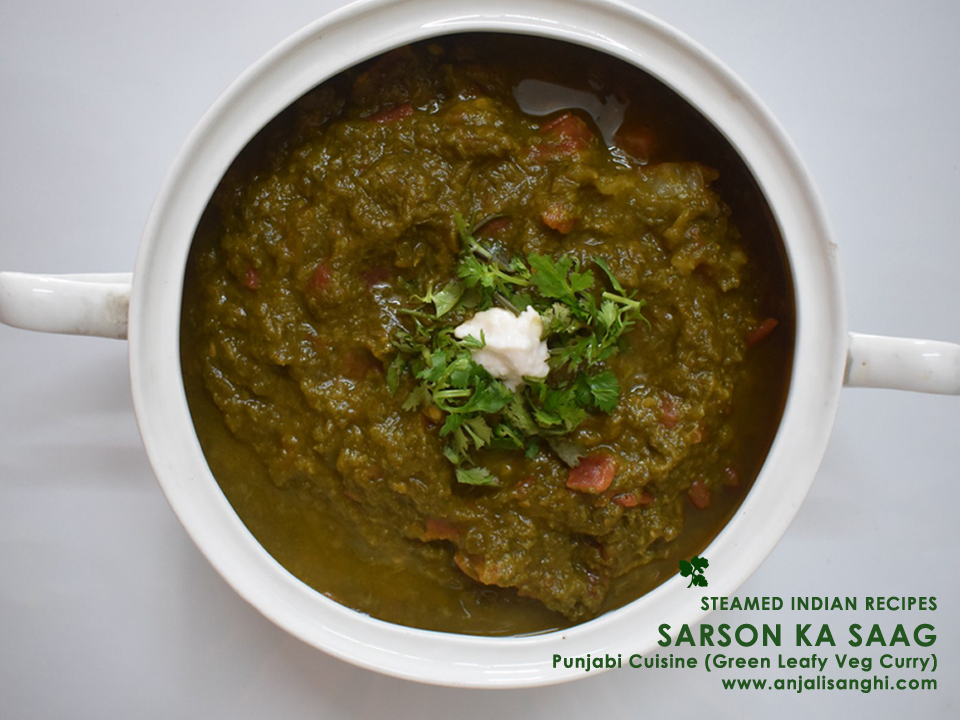 HOW THESE RECIPES CAME TO BE:
_________________________________________________________________________________________________________________________________________________________________________________________
Anjali Sanghi has brought out the new book 'INDIAN STEAMED RECIPES' from long-term successful experiences of innovating food into creative recipes. When she had herself started looking for vegetable based steamed recipes, she found them very rarely.
It is widely known that steamed vegetables are the easiest to digest, most nourishing among cooked foods. Many people automatically switch to steamed or boiled food when they want to eat lighter, have better digestive health or want to recover faster.
But the question was, how to make these recipes more delicious, and appealing to all, so that everyone could enjoy them in day to day life. It will not be an exaggeration, if Anjali was to tell you that all these Indian Steamed Recipes that you find in this book were actually- answers to her prayers. So when she started making them, she humbly started sharing them online. The response she got was very encouraging and people started asking her if she had written a recipe book which they could refer to. She got to know that from kids to elderly, everyone loved them.  Slowly she started collecting all the recipes and converted them into a self-published e/book to share with one and all.
All these recipes have just the right ingredients which ensure that you get the maximum nutrition which cooking can offer, and also benefit from the healing properties of Indian herbs, spices and seeds at a day to day level. Each recipe is un-expectedly delicious for a steamed or boiled version. Since vegetables do not lose their colour or texture during steaming, they look and taste delicious. The flavours of herbs and spices also stand out to appeal deliciously to your taste buds.
These recipes also provide you with different options of adding raw spices, or oil free tempering and/or tempering with minimum oil so that you can create your own versions as per the taste requirements of those you love.
Whether it is Bharwa Bhindi, Bhaji, Stuffed Capsicum, or Saag, enjoy these heart healthy ~ digestion friendly ~ colourful ~ Steamed Indian Recipes and bring delightful health to everyone around you.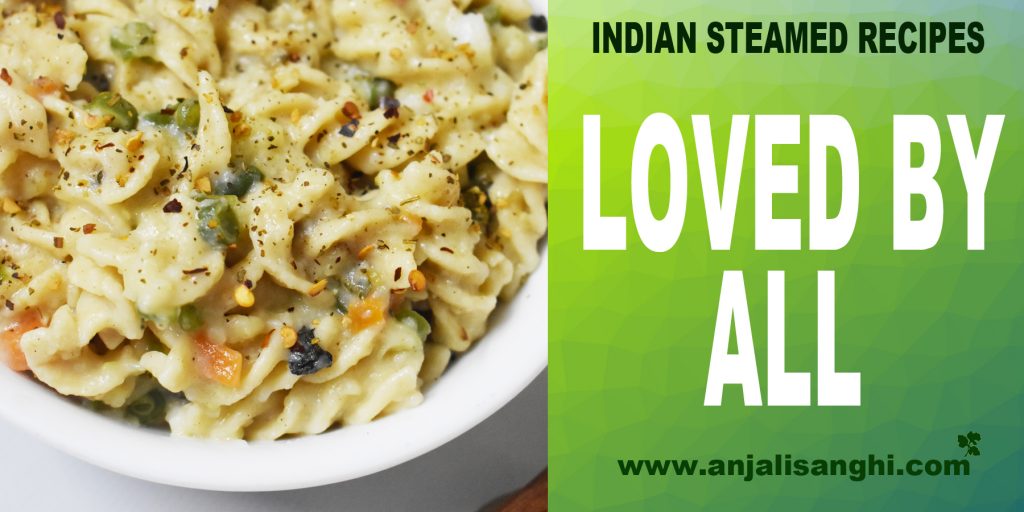 REVIEWS
____________________________________________________________________________________________________________________________________________________
What are wonderful people who have got this book before saying:
"INDIAN STEAMED RECIPES: A complete Guide to Healthy Cooking which has our Indian flavours.
Since I was on a lookout for a healthy cookbook which could match my taste buds. Here I found Anjali's book on steamed, plant-based recipes which has all the details which are needed for healthy and oil free dishes. There are various suggestions in the book which guided me through healthy cooking hassel free. This book explains very well why steaming is important and how it is to be done. This is one book you need to add in your kitchen the way I have done and reap benefits. The section that has cooking guide is a favourite of mine because it has all types of food which are covered. The book teaches about process of steaming the food and learning the right way. I am so happy that I found this book. I thank Anjali for this." 
Sonia Kalgutkar, 2017
"It's really so hard for mothers to make kids opt for healthy foods especially when they are surrounded with Junk food eaters. When kids are given tasty foods that are healthy, they surely demand for it. This Indian Steamed Recipes ebook includes such tasty recipes that can replace junk food and opt for healthy food. It's so good for kids and also adults. Thank you Anjali for this ebook."
Pavithra Ram, 7 Feb 2018
"Recipe books are awesome.I purchased your 2 books- Steamed Recipes n Raw Recipes few days back. They are more than excellent."
Dr. K. K. Goel, M.D. 30 Nov 2017
"Steaming of vegetables is an unbelievable way of preserving the nutrients given by nature to each vegetable. While changing the Indian cooking style from heating, frying in the oil to just steaming the vegetable, we have realized that it gives inherent fullness, brightness, freshness, flavour, texture, sweetness, and also gives a refreshing feeling.
Like a steam bath opens up all the pores and gives a refreshing feeling, by relaxing the nerves, de-toxifying the body and relieving the stress because of the release of endorphin- a feel good chemical. Having Indian steamed vegetable recipes also makes us feel the same.
We made two portions of the same vegetable lot. One lot was cooked and another portion was steamed. This experiment threw up an incredible difference. The steamed vegetable was full of freshness compared to other methods of cooking.
At home, we all have switched majorly to these steamed and boiled recipes, thanks to Anjali Sanghi's simple, yet incredible innovations in her book, 'INDIAN STEAMED RECIPES."
Ashok Kumar, Businessman, 28 August 2018
BUY EBOOK OR PRINTED BOOK NOW

EBOOK INTERIOR:
Fully Coloured, PAGES: 120+
(Instant Download PDF Format)
PRINTED BOOK INTERIOR:
Fully Coloured, SIZE: A4, PAGES: 120+
(Delivered in India and Internationally)
***
FAQ'S ON DELIVERY OF BOOKS
Q1. When will I receive my ebook?
A2. Ebooks are instant download. You will have and enjoy them as soon as you have paid.
Q2. What payment methods are used while making payment?
A2. Credit Card/ Debit Card/ Online Transfer/ Paytm and several other safe online options are available to make payments. Their availability may depend  upon your location/ country. You can pay via the respective links of e/books available above.
Q3. In how many days will my printed book reach me?
A3. Our printed books are very high in quality and are printed one book at a time exclusively for you. Your book generally reaches you within 5-10 working days in India. For International delivery it depends upon your location.
Q4. What courier services do you use to send the book?
A4. We use premium courier services like Bluedart etc. to send the books to you  in India.
Q5. Will I receive any updates on the status of my book?
A5. Yes. As soon as you order, the updates will be sent to you by email directly by our publisher.
A SPECIAL NOTE: Our printed books are high quality, soft bound POD (Print on Demand) books printed one at a time- especially for you. Enjoy them for years and keep creating delicious, healthier recipes.
Please contact us for any further questions.
DISCLAIMER: Please consult your doctor before making any dietary changes. Results may vary from person to person. This book is completely based on personal experiences and research. Author or anyone directly-indirectly related do not take any kind of guarantee or responsibility of your actions. Please read complete disclaimer HERE.