EVERYONE CAN HAVE CERTAIN QUANTITY OF FRESH RAW FOOD IN THEIR ANY PRESENT LIFESTYLE (IF IT SUITS THEM) AND REAP BENEFITS.
Note: These Faq's have been written based on true experiences and research of Anjali Sanghi and may vary from others.
Q1. WHAT IS RAW FOOD?
Raw food is fresh, ripe food which is ready to eat as it is like- fruits, vegetables, sprouts etc.
Dried fruits. nuts, seeds, spices etc can also be called raw but entirely depending upon how they have been dried and at what temperatures. Any foods dried in the open by the sun's natural heat or those dehydrated below 47 degree C / 118 degree F are also considered raw.
RAW PLANT BASED FOOD CAN CONSIST OF:
FRESH-RIPE (Whole Food)
DRIED (These are not Whole Raw Foods)
Fruits

Green Leafy Vegetables

Vegetables

Fresh Sprouts

Herbs

Roots

Dried Nuts (un-heated/which can be sprouted)

Seeds (un-heated/which can be sprouted)

Dried Herbs

Spices
 Q2. WHAT ARE WHOLE RAW FOODS?
Any food can be truly called 'Whole Food' when you can have it and can enjoy it in it's most natural, ripe, fresh state.Thus fresh raw foods can be called whole food. Thus having fresh, ripe, natural fruits and vegetables daily can help us by giving us greater nourishment, better digestion and many more benefits.
Raw foods can also be made into simple, delicious, quick recipes and had daily.
Some examples of natural raw foods or their recipes are given below. 
WHOLE (OR NEAR TO WHOLE)- RAW FOODS

(Have these more)

NOT WHOLE- RAW FOOD

-Fresh Fruits

-Fresh Greens

-Fruit Smoothie/Green Smoothie

-Orange juice with fiber

-Fresh sprouts

-Dips/dressings/meals made from whole foods

-Dried fruits like dried prunes, dried raisins etc.

-Dried or Powdered Greens

-Fruit Juice/ Green Juice/ Vegetable Juice

-Dried seeds and dried nuts

-Dehydrated Raw Foods

-Oils
Q3. WHAT ACCORDING TO YOU IS IMPORTANT NUTRIENTS IN RAW FOOD?
WATER: Our body is made up of around 70% water. Most fresh fruits and vegetables are also made up of 70-90% or more water. When we eat fresh fruits and vegetables then we receive this most essential nutrient- Water. DID YOU KNOW- that like carbohydrate, protein, fat- water is also a macro nutrient: which means it is required in major quantities to sustain our well-being.
ENERGY: It has been recorded and researched by many people how a fresh ripe fruit contains live energy.  It is also known that certain energy is lost when we heat the same food above a certain temperature (This is based on the same principle of basic chemistry which is taught in Schools). Over the years we have also come to realize that as per Indian tradition, our food should also have Positive Energy. To ensure this we heal our food as we have learnt from our mentor.
Q4. WHAT ARE THE COMMONLY OBSERVED BENEFITS OF HAVING FRESH RAW FOODS DAILY?

The digestive system can become more cleansed from inside.
Inner digestive systems can start to function better.
Body feels lighter.
Greater energy in the body can be experienced
More joy is felt as happy hormones are released.- BEST BENEFIT
Stools can get more regulated and are clear and light.
Urine becomes clearer.
Greater immunity is observed.
Several different benefits are observed by different people of different ages. Thus results may vary from person to person.
Q5. HOW MUCH RAW FOOD CAN SOMEONE HAVE WHO ALSO EATS COOKED FOOD?
This is entirely dependent on personal preference, tastes, needs, up-bringing, availability, weather, state of health, types of energy requirements and many other factors. People who have cooked foods have been seen to vary 10-20% to 50-80% raw food in their diet depending upon their own preferences. This percentage can vary from daily to monthly to annually.
It is certainly wonderful for all to have at least some fresh fruits, greens and vegs in our present diet. (However please start by eating only those foods which suit you and ensure to consult your doctor before making and dietary changes). See tips below.
Q6. HOW CAN WE START INCLUDING RAW FOODS IN ANY PRESENT DIET?
Here are some tips which work for mostly everyone of all ages. Please see if they can help you you equally or better:
#1 Start with small quantity of fresh, seasonally available, ripe fruits you love and which seem to suit you well.
#2 Never start with raw foods you don't like, or cannot seem to digest.
#3 Always have fresh raw foods before your cooked meal (and not after them)- This can ensure better digestion and can avoid bloating, acidity etc.
#4 Have fresh raw foods/salad/ smoothie etc at-least half an hour before your cooked meal.
#5 If you are having raw food as recipes then initially keep them simple with least ingredients for better digestion. Also learn and follow 'Food Combining and Sequencing'. This can help in lots of aspects. Our recipes on this website and in our books are mostly well food combined to help you with this.
#6 Introduce raw foods gently. Don't replace a whole meal (breakfast-lunch-dinner) with raw food. Introducing gently may  help in least detox symptoms, no hunger pangs after raw food and also emotional well being (which is most important) for most people.
#7 Chew your food well. It will help.
#8 See if you can find time to wash, prepare, cut, chop your fresh fruits/ raw food dish yourself. It will bring your a noticeable inner satisfaction.
#9 Don't force yourself/ your kids/ family or others to have raw foods even if they seem healthier to you. Do this gently, step by step.
#10 Please do not daily have too many nuts, seeds, packed juices etc in the name of raw food. Please see what is best for your long term well-being and create a daily balanced, healthy lifestyle for yourself (which can change as per your overall needs and tastes. Please consult your healthcare practitioner to help you with this).
Q7. DO YOU RECOMMEND FULLY (100%)  RAW DIET OR DETOX?
We do not ourselves follow a fully raw diet or lifestyle, so we do not tell people about it. Please consult a specialist in that area.
Q8. WHAT HAVE YOU COME ACROSS ABOUT SOMEONE WITH DIABETES OR HIGHER BLOOD SUGAR LEVELS TO SAFELY HAVE FRUITS?
Please consult your an experienced healthcare practitioner or your doctor to know more on this subject. Also check the quality of produce. Try locally grown, seasonal or tree ripened better quality produce. Certain conventional produce can be exposed to chemicals or very high heat. Such fruits may not be suitable of consumption of anyone including those who are diabetic.
Q9. I HAVE FEAR OF GETTING/ I AM GETTING SOME PIMPLES AFTER EATING CERTAIN FRUITS. WHAT TO DO?
A. You can avoid these fruits initially to avoid all discomfort and have others which you like. You can also try to change the produce and get better quality.
Q10. I GET ACIDITY AFTER EATING FRUITS. WHAT TO DO?
Ans. Check food combination and sequencing of having fruits. If you are already following that then it is possible that your body is undergoing a detox and removing excess acidity from your body. You can also help yourself with natural de-stress methods, like meditation, yoga and positive thinking. But if it still persists then you can avoid those fruits which increase acidity and have others instead. an experienced healthcare practitioner or your doctor to know more on this subject.
 Q11. I FEEL VERY HUNGRY AFTER EATING RAW FOODS. WHAT DO I DO?
Many people feel very hungry as soon as the start introducing fresh fruits and vegetables in their present lifestyle. There could be many reasons for this. Since most fresh fruits and vegetables are high in nourishment- you can certainly have them as much as they suit you or you can digest.
Q12. Is there any way to check how much nutrition is there in which raw foods?
Countries periodically issue guidelines about nutrition in foods available in their respective countries. You can find such documents available online or you may contact a qualified nutritionist to help you. You may also find information on websites like cronometer.
Q13. HOW CAN WE CREATE DELICIOUS, WELL-COMBINED RECIPES TO INTRODUCE AND INCREASE RAW FOOD IN OUR PRESENT DIET?
On this website we present to you our simple, flavorful and favorite, well combined raw recipes. These recipes are fully raw and plant-based – they are packed with goodness of vitamins, minerals, other macro-micro  nutrients.
Recipes are a very good way to introduce, increase and enjoy raw foods in their different textures and forms. Relish these recipes with your kids and family… CLICK HERE TO MAKE OUR DELICIOUS PLANT BASED RAW RECIPES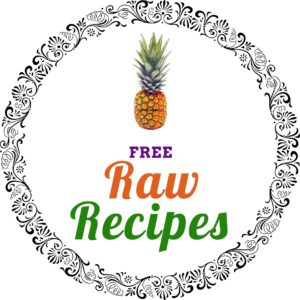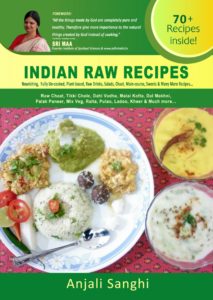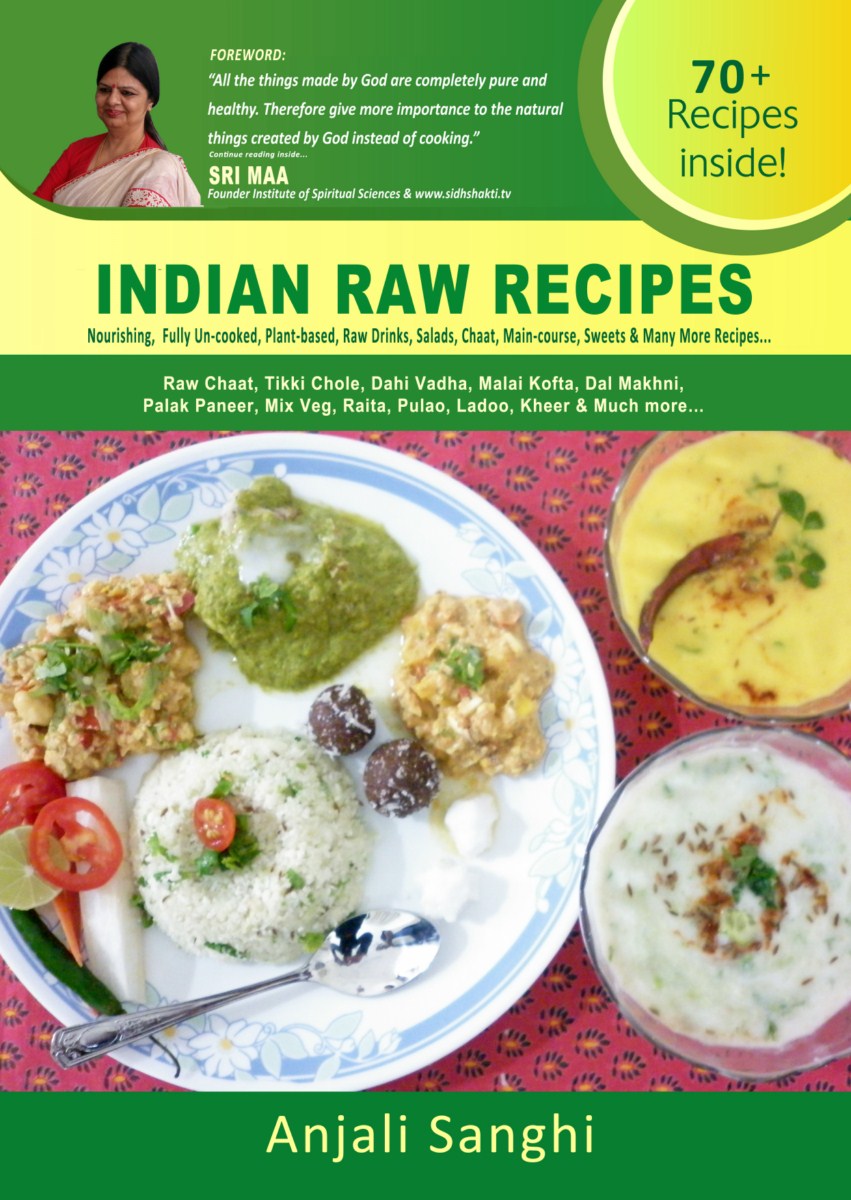 DISCLAIMER: Please consult your doctor before making any dietary changes. Results may vary from person to person. This website, our books etc are completely based on personal experiences and research. Author or anyone directly-indirectly related do not take any kind of guarantee or responsibility of your actions. Please read complete disclaimer HERE.