SALSA DRESSING
Things Required:
1-2 big mangoes or sweet papaya (diced)
½ Red/yellow bell pepper
Handful of fresh mint or coriander
Some water to blend only if required
OPTIONAL: Red Chili to taste
Few leaves of green onion to taste
Add cream from one young coconut or some avocado to make it creamier if you wish.
CREATING THE DRESSING: Wash all produce, dice and blend together in a blender till smooth. Tip: to get enhanced flavor of the greens, add them after the other ingredients have blended completely. Now pluse them to finer pieces. This ways, your dressing will remain orange in colour with fine greens glittering in them.
USE THIS ON: Cucumber noodles, Zucchini noodles, as a salad dressing, To dip sliced cucumbers etc.
We love to use it over a Rainbow salad with diced tomatoes, yellow bell pepper, mangoes, cucumber or Kakdi or Zucchini and some purple cabbage topped with finely chopped coriander and mint.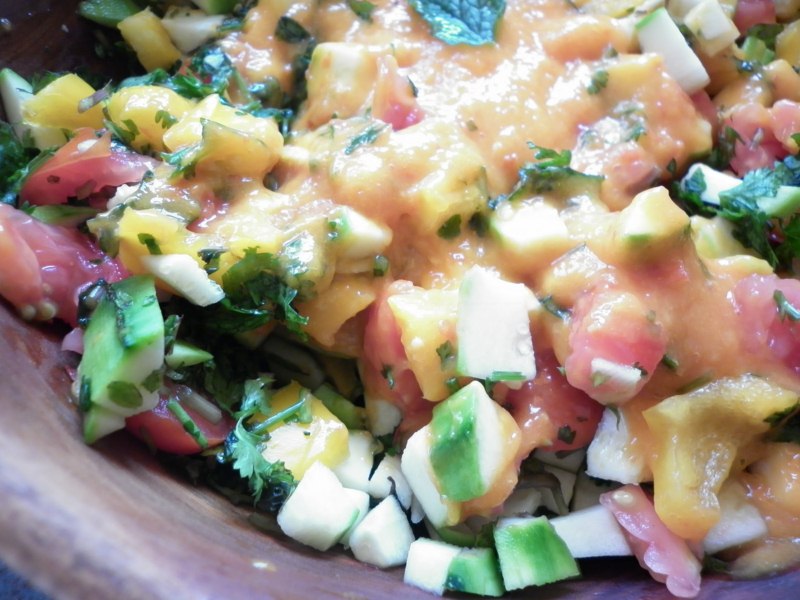 Change ingredients as locally available to you. You can even optionally sprinkle this with some raw red chili powder and finely chopped green onion leaves to taste.
IF YOU LOVE MANGO OR PAPAYA, THIS IS A HIGHLY NOURISHING AND A LOW FAT SALAD, SO ENJOY AS MUCH AS YOU LIKE. IT MAKES YOU FEEL WONDERFUL AND TASTES BEST WITH ORGANIC, NATURAL OR SELF-GROWN PRODUCE.