Steaming is universally known to be one of the best ways of cooking. It has been used since thousands of years everywhere in the world including India. Steaming has been considered the best way to retain most nutrients, colour, texture, taste of the original food. Enjoy these recipes with your family, kids & loved ones and spread joyful well being everywhere
In this book we present to you our INDIAN STEAMED RECIPES which are:
Allergen free
Healthier
Digestion friendly
Simpler to prepare
Plant based (so that all can enjoy them)
Oil free (optional)
Have delicious flavour with lesser spices
Option to make changes according to your own tastes and liking
Saves time and fuel
Environmentally empowering
Brings joy without compromising on taste
Suitable for all kids, adults and elderly
ARE YOU NEW TO 'INDIAN STEAMED RECIPES' OR STEAMING?  READ FAQ'S HERE
YOU CAN ALSO: KNOW MORE &/OR GET OUR E/BOOK NOW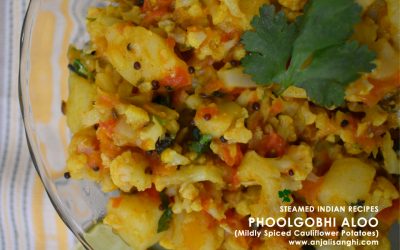 PHOOLGOBHI ALOO (Mildly Spiced Cauliflower-potatoes) Easy to prepare, this North Indian dish is an all time winter favourite for those who like having cauliflower based vegetables.  Here is the Steamed, Delicious, Nourishing, Gluten free, oil free (optional),...
read more